Healthy & Easy Swap Ideas!
Here are some tips and tricks on how to make meals healthier. If your family likes hamburgers, how you can you make them healthier? Swap out beef with lean turkey on whole wheat buns, or load them up with veggies. There are plenty of ways to having a good tasting meal while being healthy at the same time. Check out some swapping ideas below for your meals.
Some simple swaps can go a long way!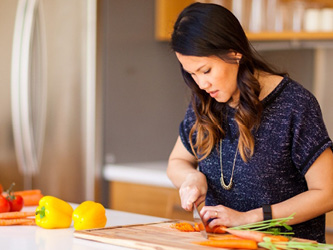 Tuna Salad or Chicken Salad
Ingredient Swap:
1 Tbsp Greek yogurt
Try this simple swap instead of using 1 Tbsp of mayo.
You save about 80 calories and 10.5 grams of fat per tablespoon!
---
Hamburger
Ingredient Swap:
4oz of ground sirloin
100% Wheat sandwich thin
Low fat cheese
A typical 4 oz ground beef burger with a slice of cheese on an Onion Kaiser bun will have about 594 calories and 34 grams of fat.
By swapping the ground beef meat with 4oz of ground sirloin, using a 100% whole wheat sandwich thin and switching your slice of cheese to low fat cheese, you get about 318 kcals, 11 grams of fat (saving you 276 calories, 23 gm of fat, plus adding 2 grams of fiber!)
---
Pasta
Ingredient Swap:
One cup of zucchini noodles or spirals
Use the zucchini noodles instead of one cup of regular noodles and you can save about 200 calories (plus you get some extra vegetable servings!)
---
Steak Dinner
Wondering how to make date night healthier? ❤️
Ingredient Swap:
Top Sirloin Steak
A baked potato (with spray butter) and Greek yogurt
1 tsp of olive oil on the asparagus
By swapping a ribeye for a sirloin, and changing the preparation for the potatoes and asparagus, you save 265 kcals and 36 grams of fat compared to having 720 kclas and 52 grams (28 grams of which owould be saturated fat).
---
Sodium Swaps
Ingredient Swap:
Low sodium broth
Low sodium bean
No salt added canned tomatoes
Fresh vegetables
Soup can be incredibly high in sodium; many soups have 800-1000mg of sodium for a small cup. One way to reduce your sodium intake is by making your own soups. Consider some simple switches to decrease the sodium!
Switching just your broth from regular to a low sodium version can save you 789mg of sodium per cup! Changing regular canned beans to low sodium can save you at least 945mg of sodium per can depending on the brand!
Changing canned tomatoes to "no salt added" canned tomatoes can save another 507mg of sodium per can depending on the brand! If using other types of vegetables in your soup, try to use fresh or frozen to help keep the sodium low!
---
Tacos
Ingredient Swap:
Ground turkey
Homemade seasoning
Low sodium black bean
When making tacos and cooking a pound of ground beef/turkey switch your taco seasoning from store bought seasoning to homemade seasoning (with chili powder, onion powder, garlic powder, crushed red pepper, paprika, black pepper) and save 1500mg of sodium!
Also, another trick I love is adding low sodium black beans into my cooked taco meat! It not only adds plant-based protein and 21 grams of fiber, but it helps stretch the meal to feed more people or creates leftovers for another night.
---
If you would like to book an appointment for nutritional counseling services or have more questions, please stop by our Fitness Desk!
QUESTIONS!

Visit our Service Desk or call us at (219) 865-6969.

Special thanks to Kristal Twardy one of our Franciscan Health Fitness Centers Regsitered Dietician at our Schererville Club for writing this blog.