Franciscan Coworkers Manufacture PPE for Local Hospitals
Coworkers and staff across Franciscan Health Fitness Centers have pulled together, with the generous support of Tonn and Blank Construction, to produce much needed PPE (Personal Protection Equipment) for Franciscan Health staff to use during this period of short supply. Workstations were set up in both the Chesterton and Schererville Clubs with social distancing measures in place.
The first project, assembling approximately 7,000 face shields to be used by frontline caregivers, was accomplished in just four days. Tonn and Blank made prototypes and tutorials to train the health club staff on how to make the face shields. The shields have been distributed to various local Franciscan Health locations to aid the doctors, nurses, respiratory therapists, other clinicians and staff.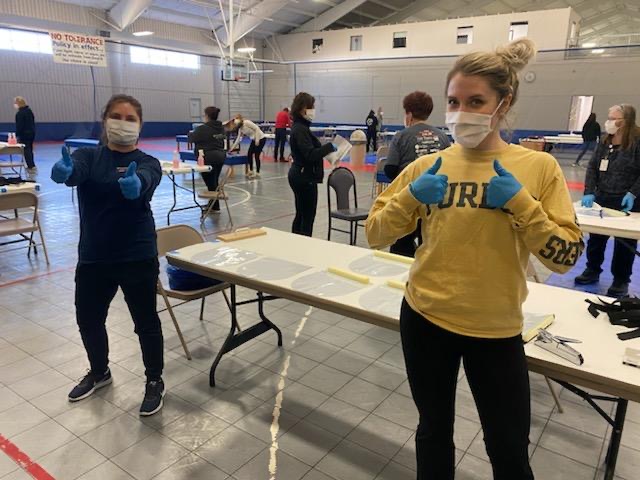 Making isolation gowns for the Franciscan Health locations was the next project. Over 12,500 PPE Gowns, toward a goal of 10,000, have been produced so far. The two locations have a daily shift consisting of 20-30 coworkers who are stationed throughout the Clubs. Made of a thin plastic sheeting, the gowns are cut, taped and ironed during the manufacturing process.
In addition to these projects, Franciscan Health Fitness Centers assisted Able Paper and Janitorial with the donation of 205 boxes of medical grade gloves. They were delivered to Franciscan Health Munster on Wednesday.
Due to state guidelines surrounding the "Stay at Home" order, Franciscan Health Fitness Centers services have been temporarily suspended. In support of their mission, Fitness Center staff was redeployed to help in these efforts for Franciscan.
"The fitness center staff was so excited for the opportunity to do their part to keep their front-line clinical peers as safe and protected as possible. Being able to manufacture PPE for our Franciscan Healthcare Heroes has truly given our work purpose beyond measure," said Carrie Fleming, Manager, Fitness Center Schererville."We are honored to assist in any way we can, all hands-on deck. Our mission is alive and well at Franciscan Health Fitness Centers."